Seeing through walls
<![if !vml]>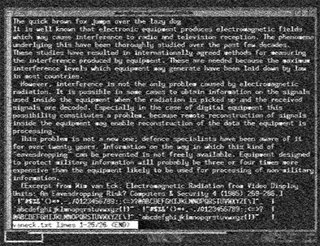 <![endif]>Have you considered that someone could be reading what's on your monitor from a few rooms away? It's unlikely, but possible, as work by Cambridge University computer security researcher Markus Kuhn shows.

A radio antenna and radio receiver - equipment totalling less than £1000 - is all you need. Kuhn managed to grab the image to the left through two intermediate offices and three plasterboard walls.

Back in 1985, Wim Van Eck proved it was possible to tune into the radio emissions produced by electromagentic coils in a CRT display and then reconstruct the image. The practice became known as Van Eck Phreaking, and NATO spent a fortune making its systems invulnerable to it. It was a major part of Neal Stephenson's novel Cryptonomicon.

CRTs are now well on the way to being history. But Kuhn has shown that eavesdropping is possible on flat panel displays too. It works slightly differently. With a flat panel display the aim is to tune into the radio emissions produced by the cables sending a signal to the monitor. The on-screen image is fed through the cable one pixel at a time. Because they come through in order you just have to stack them up. And Kuhn has worked out how to decode the colour of each pixel from its particular wave form.

If everything is just right, you can pick up signals from some distance. "I was able to eavesdrop certain laptops through three walls," says Kuhn. "At the CEBIT conference, in 2006, I was able to see the Powerpoint presentation from a stand 25 metres away." Here's the image he managed to get:

<![if !vml]>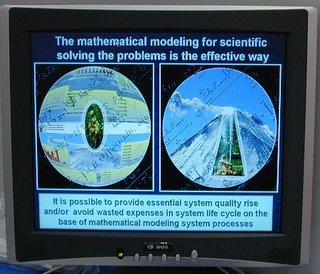 <![endif]>Kuhn also mentioned that one laptop was vulnerable because it had metal hinges that carried the signal of the display cable. I asked if you could alter a device to make it easier to spy on. "There are a lot of innocuous modifications you can make to maximise the chance of getting a good signal," he told me. For example, adding small pieces of wire or cable to a display could make a big difference.

As for defending against this kind of attack, Kuhn says using well-shielded cables, certain combinations of colours and making everything a little fuzzy all work.

For another cool security demonstration by Kuhn, check out this story on decoding the flicker a monitor casts on the walls.

Tom Simonite - online technology reporter.
Labels: displays, eavesdropping, hacks, security