http://www.pennlive.com/lehighvalley/index.ssf/2007/08/electronic_voting_machines_mig.html
Lehigh Valley Live
<![if !supportEmptyParas]> <![endif]>
Electronic voting machines might be out for some Nov. races
<![if !supportEmptyParas]> <![endif]>
by Sarah Cassi
Wednesday August 15, 2007, 4:08 PM
<![if !supportEmptyParas]> <![endif]>
<![if !vml]>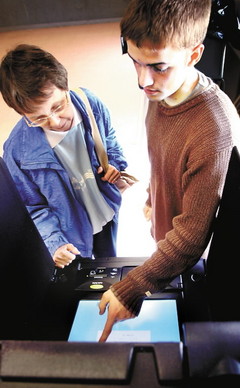 <![endif]>Express-Times File Photo | KEN WHITE
Polling place volunteer Roger Schweitzer of Bangor explains an electronic voting machine to Jane Miller, also of Bangor, during the 2006 primary election.
<![if !supportEmptyParas]> <![endif]>
Northampton County's electronic voting machines may not be able to handle elections in which candidates run under both the Democratic and Republican tickets, and county officials don't know how residents will vote in those races.
Administration Director John Conklin said he's looking for solutions, including paper ballots and possibly using the old lever machines, which are stored at the Gracedale campus in Upper Nazareth Township.
Conklin said Advanced Voting Solutions, which manufactures the county's voting machines, hasn't paid its bill to a federal certification company that was testing new software to allow cross-filed candidates.
Any changes made to a voting machine must be certified at the state and federal levels. The certification company considers the non-payment a breach of contract and has refused to certify the machines.
As it stands, the county would be able to use its electronic voting machines, but not for voting in races with cross-filed candidates. "What do we do?" Conklin asked.
The general election is Nov. 6, less than 12 weeks away.
Read iBeta Quality Assurance's letter to Advanced Voting Solutions here.
Read the Election Assistance Commission's letter to Advanced Voting Solutions here.
Read the commission's letter to iBeta here.
© 2006 PennLive LLC. All Rights Reserved.