http://www.nytimes.com/2007/07/20/washington/20vote.html?ref=todayspaper&pagewanted=all
The New York Times
July 20, 2007
<![if !supportEmptyParas]> <![endif]>
Overhaul Plan for Vote System Will Be Delayed
By CHRISTOPHER DREW
<![if !supportEmptyParas]> <![endif]>
<![if !vml]>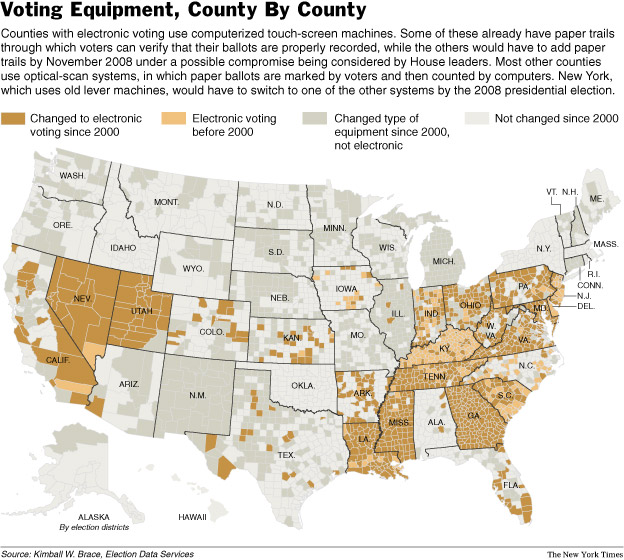 <![endif]><![if !vml]>

<![endif]><![if !vml]>

<![endif]>
Democratic leaders in the House and Senate are slowing their drive to revamp the nation's voting systems, aides said yesterday.
<![if !supportEmptyParas]> <![endif]>
Under pressure from state and local officials, as well as from lobbyists for the disabled, House leaders now advocate putting off the most sweeping changes until 2012, four years later than planned.
<![if !supportEmptyParas]> <![endif]>
Overhauling voting systems before next year's presidential election had once been a top Democratic priority, primarily to allow greater accountability and be certain that all votes registered on computerized touch-screen systems were counted. But state and local elections officials told Congress they could not make the changes in time for the balloting in November 2008, particularly in light of the extra workload involved in preparing for next year's much-earlier presidential primary season.
<![if !supportEmptyParas]> <![endif]>
Confronted by similar concerns, Senator Dianne Feinstein, Democrat of California and the chairwoman of the Senate Rules Committee, said she had already decided against seeking any major changes in voting equipment before 2010.
<![if !supportEmptyParas]> <![endif]>
"My sense is there's no way to get this thing in place by the election of 2008," Ms. Feinstein said. "Without adequate time, we could cause real problems in the election."
<![if !supportEmptyParas]> <![endif]>
Senate Democrats say that stretching out the timetable could increase their chances to win enough Republican support to put the changes into law.
<![if !supportEmptyParas]> <![endif]>
House Democratic officials say they are now working on compromise legislation that could allow hundreds of counties in 20 states to simply add tiny, cash-register-style printers to their touch-screen machines for the 2008 and 2010 elections, while waiting for manufacturers to develop better technology by 2012.
<![if !supportEmptyParas]> <![endif]>
House officials said the compromise would ensure that all voting machines nationwide would have some kind of paper trail in 2008 through which voters could verify that their ballots were properly recorded and that could be used in recounts. Under the plan, New York, which has delayed replacing its old lever machines, would be the only state that would have to change its entire voting system by November 2008.
<![if !supportEmptyParas]> <![endif]>
But critics say that while billions have been spent to improve voting since the disputed presidential election in 2000, the compromise would leave a patchwork and somewhat jury-rigged system that would still be vulnerable to tampering or computer malfunctions in next year's elections. Many experts have criticized the add-on printers, which use thin rolls of relatively fragile paper, as too prone to paper jams and smearing to ensure that every vote is counted.
<![if !supportEmptyParas]> <![endif]>
The House leadership is negotiating with Representative Rush D. Holt, Democrat of New Jersey, the bill's original sponsor, over the details of the compromise. Those talks, however, have hit a snag over how to guarantee easy access to voting machines by the handicapped without limiting the technology available to everyone else. Mr. Holt has long expressed a preference for optically scanned ballots marked by voters, but so far House leaders are siding with advocates for the handicapped, who fear that they cannot use optical ballots without help.
<![if !supportEmptyParas]> <![endif]>
Reached by phone yesterday, Mr. Holt would not discuss details of the negotiations. But he said: "There are a lot of competing interests, and this has for years been a difficult bill. It also could still be tough to resolve the issues that are remaining."
<![if !supportEmptyParas]> <![endif]>
If a deal is reached soon, the House could vote on the bill within two weeks. House leaders also need to hold onto Mr. Holt's support. Mr. Holt, a former Princeton University physicist, is the leading expert on voting technology in Congress, and any deal could fall apart if he withdrew his support.
<![if !supportEmptyParas]> <![endif]>
The proposed legislation is the second effort by Congress to fix the nation's voting system since the bitter fights over hanging punch-card chads in Florida. Under the Help America Vote Act, passed in 2002, the federal government has spent more than $3 billion to help states and counties modernize their voting systems, installing thousands of touch-screen and other machines. But since then, growing concerns about the reliability and the security of some of the machines had led to widespread calls for another overhaul.
<![if !supportEmptyParas]> <![endif]>
As a result, the proposed compromise is a blow to some computer scientists and other activists, who would like to get rid of the touch-screen machines used by nearly 40 percent of American voters. They had hoped that a tighter deadline would force states and localities to quickly shift from touch-screens to optical-scan systems, in which ballots are marked by the voters themselves rather than being generated by computers.
<![if !supportEmptyParas]> <![endif]>
But state and local election officials, weary from all the changes they had already made, argued that it is already too late to make such significant changes without creating chaos next year. Advocates for the blind and the disabled also threatened to oppose the bill if it went too far in discouraging the use of touch-screen machines before the optical scanners were made easier for them to use. And House officials — led by the majority leader, Representative Steny H. Hoyer, Democrat of Maryland, who is trying to broker the deal — said they wanted to avoid another buying spree if better equipment might be available later.
<![if !supportEmptyParas]> <![endif]>
House aides said that Mr. Hoyer, who has long taken a lead on voting and disability-rights issues, and Speaker Nancy Pelosi of California do not want to undercut any of the gains that the disabled had made in voting without assistance. They also said that the compromise would achieve the Democrats' main goal — ensuring that there would be a paper back-up for each vote cast in November 2008 — while allowing more time to move to systems with more durable ballots.
<![if !supportEmptyParas]> <![endif]>
As the talks stand now, the proposed bill would include several substantial changes that Mr. Holt has long sought. Like Ms. Feinstein's version in the Senate, the House bill would generally make the paper ballots or printouts the official votes in the event of a recount. It would require localities to conduct rigorous audits of most federal races to ensure that the voting machines had worked properly.
<![if !supportEmptyParas]> <![endif]>
To guard against computer bugs, both bills also would require manufacturers to make the software code that runs their machines available to government authorities, though neither bill would require that it be released publicly, as some computer experts have advocated.
<![if !supportEmptyParas]> <![endif]>
In addition, the House bill would authorize $1 billion in additional spending to help pay for the equipment upgrades, while the Senate version calls for $600 million.
<![if !supportEmptyParas]> <![endif]>
Under the proposal in the House, six states — Delaware, Georgia, Louisiana, Maryland, South Carolina and Tennessee — and various jurisdictions in 14 others would have to add the paper trails to their touch-screen machines by November 2008. New York would have to install either optical-scan machines or buy touch-screens with printers by then.
<![if !supportEmptyParas]> <![endif]>
Votes can also be lost on the optical-scan systems, and election officials say it can be cumbersome to use them in large cities where ballots have to be printed in many languages. But if scanners can be made easier for the disabled to use, many computer experts believe they could eventually dominate the voting landscape.
<![if !supportEmptyParas]> <![endif]>
Copyright 2007 The New York Times Company
<![if !supportEmptyParas]> <![endif]>