Vol. I No. 9
Friday, March 24, 2006
Saved by VotePAD?
Low-tech disabled-accessible voting device pursued despite Diebold certification
Decision '06
By Charles Douglas
HUMBOLDT SENTINEL
EUREKA – Election insiders and voting security critics alike seemed relieved at the Mar. 2 Elections Advisory Committee confab as a new disabled-accessible balloting apparatus, the Voting-on-Paper Assistive Device (VotePAD), was introduced. Their reaction led Clerk/Recorder Carolyn Crnich to recommend to the Board of Supervisors on Friday they spend nearly $214,000 to purchase the VotePAD system, with hopes of being reimbursed with federal funds made available by the Help America Vote Act (HAVA).
Committee members were interested in an alternative to the TSX touch screen system from Diebold, Inc., even though the machine had just gained certification from Secretary of State Bruce McPherson, to the chagrin of nationally renowned critics such as Black Box Voting.
"The certification included some further security measures," Crnich <![if !vml]>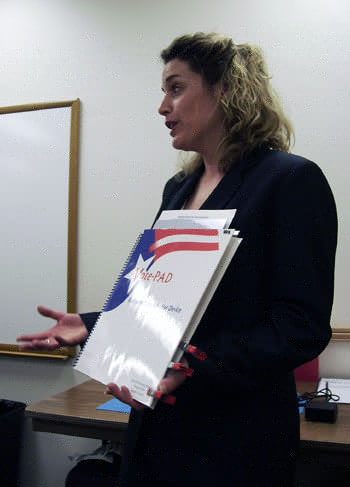 <![endif]>said as the meeting convened. "[McPhereson] found the problems that existed with the memory card could be mitigated."
Local activists from the Voter Confidence Committee, while celebrating the decision not to purchase new Diebold machines, still had questions regarding the continuing use of the AccuVote optical scan ballot system, preferring hand-counted ballots.
"The primary objection is that our votes are recorded by optical scanners that use illegal interpreter code," Voter Confidence Committee organizer Dave Berman stated on his GuvWurld blog (guvwurld.blogspot.com). "There is no basis for confidence in the results reported once the date has been converted into the non-human readable, proprietary AccuBasic programming language of Diebold…while VotePAD is far superior to touch screen machines, the method of counting renders it a false alternative."
In her recommendation to the Board of Supervisors for their session next Tuesday, Crnich also suggested negotiations with Vote Here (www.votehere.com), a division of Dategrity, Inc. of Bellevue, Washington to establish their "Mail-In Ballot Tracker" as a pilot project to track absentee ballots to verify their chain of custody and authenticity. The cost was estimated to be less than $20,000, although the topic hadn't been raised yet by the Elections Advisory Commitee.
Berman and other voting security critics held their objections off in the meeting while Dianna Smith of Vote-PAD, Inc. (vote-pad.us) made her presentation. Smith represented a privately held firm, also out of Washington, which is seeking certification with the Secretary of State's office as HAVA-compliant. Her voting is already in use in Wisconsin, in Yolo County and will be used this June in 12 Alameda County precincts as a pilot project.
Consisting of little more than a ballot-filled binder with some plastic sheets, a special sensor pen and an audio cassette player, its very low-tech nature as a non-computerized device was attractive to a committee frustrated with the definitions provided by Diebold for election security.
"It behaves much like a cane or a seeing-eye dog…it doesn't tabulate anything but it allows you to keep the ballots you are using," Smith said. "It's actually very gorgeous to watch someone who hasn't been able to vote independently before vote on this."
Voters with varying disabilities would have materials tailored to their needs, with large-font instructions, Braille and an audio recording of the ballot. A vibrating pen is also used along with a navigation sheet to confirm a voter's selections and prevent stray marks.
"I can see it's going to take some level of expertise to accommodate folks with disabilities," Supervisor Jimmy Smith (no relation) commented as Dianna Smith demonstrated the varying uses of VotePAD. Her initial estimate of $175,000 was exceeded by the eventual purchase price of $213,980 ($199,515 plus tax), but far less than early estimates of installing a similar number of TSX machines from Diebold as earlier recommended by Crnich.
Charles Douglas is the Publisher and Editor-in-Chief of the Humboldt Sentinel. He can be reached at editor@humboldtsentinel.com.        Copyright © 2005-06, Humboldt Sentinel. All rights reserved.