http://www.cityhallnews.com/news/127/ARTICLE/1218/2007-07-16.html
The City's Top Ten Lobbyists
City Hall
July 16th, 2007
Over the past five years, the amount of money spent on lobbying in the city and state has nearly doubled. At the same time, the profession has come increasingly under fire, with good government groups and reform-minded politicians looking to cut back the amount of money lobbyists can spend wooing elected officials and donating to their campaigns. Jack Abramoff's shadow hangs lobbyists from Washington to New York to Albany, and the whole profession seems to feel some of its weight.
That has not slowed business in New York City, where more than $44 million dollars was spent lobbying officials last year. Almost half this money went through the city's top 10 firms for 2006, as calculated by the office of the city clerk.
Small and medium (none of them large), the firms have different approaches to the job. To most, lobbying is integral to other work the firms do, from political consulting to fundraising to public relations. To many, the business is an extension of work they did on the public payroll, as elected officials or high-placed staffers in the top levels of government. To some, it is a family affair, spanning generations and bloodlines.
To all, theirs is a proud profession which is often misunderstood. City Hall spoke with eight of the city's top 10 firms (the Law Office of Claudia Wagner and Kramer Levin Naftalis & Frankel declined to participate) to get their takes on the business, why they believe they have enjoyed their success and which song each would propose as a theme.

Articles by James Caldwell Photos by Andrew Schwartz


No. 1:

Kasirer Consulting

<![if !vml]>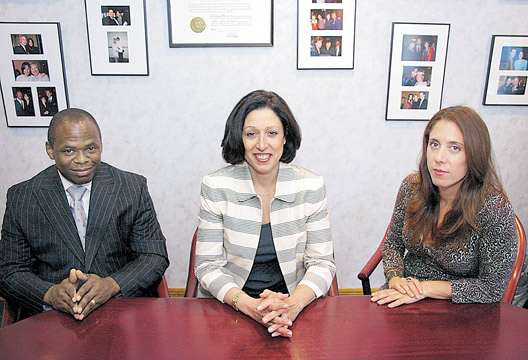 <![endif]>

(L-R): Patrick Jenkins, Suri Kasirer and Julie Greenberg

TOP 10 CLIENTS FOR 2006:
Care Plus
Silverite Construction Company, Inc.
T-Mobile, Inc.
US Power Generating Co.
ELAD Properties
SCAN
NBC Universal
Safe Horizon
Cemusa, Inc.
American Cancer Society

TOTAL BILLING FOR 2006: $3,020,645.79

PROPOSED FIRM THEME SONG: "We Can Work It Out" by the Beatles

Kasirer Consulting has been the top-ranked city lobbying firm in New York City two years running. Despite that distinction, founder Suri Kasirer and the firm have avoided the limelight, preferring instead to keep the focus on their clients.
"We believe that it's all about the clients," she said. "This is unusual, for us to be agreeing to a story about us."
In the ten years since 1997, when she founded Kasirer Consulting, Kasirer, who worked on Gov. Mario Cuomo's 1994 reelection campaign, has grown the firm to include such clients as television networks ABC, CBS and NBC, as well as cellular titan T-Mobile. The firm also represents several museums, the American Cancer Institute and Volunteers of America. The eclectic lists reflected the firm's selectivity, Kasirer said.
"We're very selective in who we decide to represent," she said. "We're also very, very careful about not taking on conflicts."
Citywide, lobbying revenues topped $44 million in 2006, up from just over $36 million in 2005, and new lobbying firms are constantly emerging. Kasirer attributed the rapid increase to three factors—an increase in reporting by lobbyists, City Council term limits and the city's continuing real estate boom. The latter, she said, is particularly fueling the growth and demand for lobbyists.
"Folks in the real estate community are heavy users of people in our business," she said.
With an increasingly crowded lobbying field in the city, Kasirer attributed the firm's success to hard work and what she sees as an atypical approach to lobbying.
"For us, it's all about strategy," she said. "I guess there are people who sell their services where it's all about relationships, but for us I think it's all about strategy."


No. 2:

Bolton St. Johns

<![if !vml]>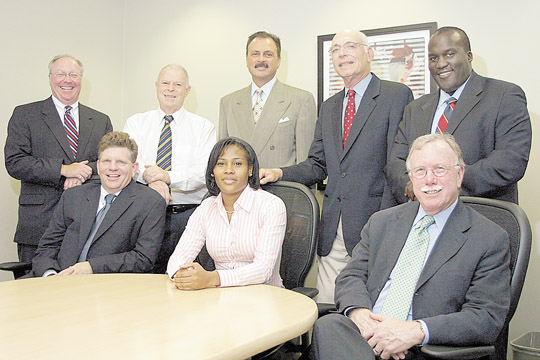 <![endif]>

Back row (L-R): Bill Mc Carthy, Norman Adler, Giorgio DeRosa,
Mel Miller and John Wright
Front Row (L-R): Ed Draves, LaShaun Lesley and Jay Adolf

TOP 10 CLIENTS FOR 2006:
The Trustees of Columbia University in the City of New York
Siemens Corporation
Recording Industry Association of America, Inc.
Visy Paper, Inc.
AMDeC Foundation, Inc.
Greater New York Hospital Association
Continuing Care Leadership Coalition
Kingsbrook Jewish Medical Center
NYS Pipe Trades Association
Committee for Taxi Safety

TOTAL BILLING FOR 2006: $2,462,786.00

PROPOSED FIRM THEME SONG: "Eye of the Tiger" (The theme from Rocky)

Thinking of lobbying in New York City is almost impossible without thinking of Norman Adler and Bolton St. Johns.
Once the deputy campaign manager for former Gov. Mario Cuomo (D) and speechwriter for former New York City Mayor Robert F. Wagner, Adler has been at the center of city and statewide lobbying since founding Bolton St. Johns in 1988.
Today, the firm employs ten full time lobbyists and maintains offices in Albany and Washington, in addition to New York City. With a roster of nearly 50 clients, the firm specializes in labor unions, health care and large corporations. It also does work for several Fortune 500 companies, which has put the firm among the top highest earners in the city for the past six years.
Looking back, Adler said there was one thing he could not have predicted when he started the firm.
"If you told me 15 years ago that there would be as many lobbyists at City Hall as there are today, I would have told you that you were out of your mind," he said.
Adler argued that the profusion of lobbying firms was the result of government making itself ever more complex. He noted that the complexity only served to increase the need for experienced lobbyists.
"The reason lobbyists exist is that we're the experts on the behavior of government," he said. "When people say they want to eliminate lobbyists, my answer to it is: okay, if everybody is required to take eight or nine different civics courses so they know how government operates, then you can do away with lobbyists."
Unlike many firms, Bolton St. Johns concentrates almost exclusively on traditional legislative lobbying and does virtually no public relations work. The firm also advises political candidates in grassroots campaigns, which Adler said helps it better shape its lobbying campaigns for clients.
"It makes us a little bit smarter than people who don't do political campaigns," he said.


No. 3:

The Parkside Group
<![if !vml]>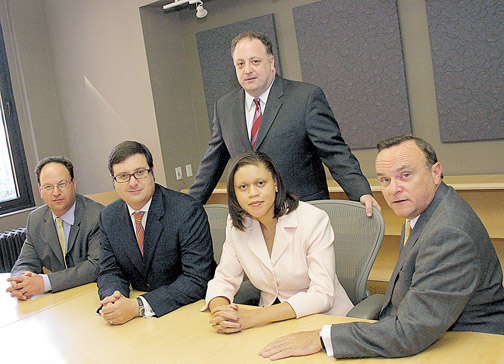 <![endif]>

Standing: Harry Giannoulis
Seated (L-R): Barry Grodenchik, Evan Stavisky, Tiffany Raspberry and Bill Driscoll

TOP 10 CLIENTS FOR 2006:
New York Hospital Medical Center of Queens
Entergy Nuclear Operations, Inc.
NYC & Company
AAFE Management
United Food & Commercial Workers District Council
of NY & Northern NJ
Telebeam Telecommunications Corp.
Danaher Controls, Inc.
AFSCME Local 2021
Queensborough Community College
Auxiliary Enterprise Association, Inc.
Queens College Foundation – Research of CUNY.

TOTAL BILLING FOR 2006: $2,462,786.00

PROPOSED FIRM THEME SONG: "We Are the Champions" by Queen

Since opening its doors in 2000, the Parkside Group has emerged as one of the fastest-growing and most sought-after lobbying firms in New York City. The Nassau Street firm has seen lobbying revenue more than double over the last three years, and it now represents more than 50 clients, ranging from small not-for-profit organizations to large corporations such as Entergy.
Evan Stavisky, one of the Parkside Group's founders, said the firm's success was the result of its unique strategy.
"We have a unique approach in that we run public policy efforts like campaigns," he said. "There is a press component, a community organizing component, and an advocacy component, as well as a legislative strategy."
Stavisky comes from a political family—his father was in the Legislature for 35 years, and his mother is currently a state senator representing Queens.
Stavisky said his political know-how gave the firm an edge in getting its clients' messages across.
"If we're able to give some insight into how best to frame a message that resonates with policy makers on behalf of our clients, that's certainly beneficial," he said.
In addition to representing large companies, the Parkside Group is also retained by several prominent unions, and it counts among its campaigns an effort to keep Wal-Mart out of New York City.
Harry Giannoulis, former ombudsman to Gov. Mario Cuomo (D) and a co-founder of the Parkside Group, said the firm's wide variety of clients was more of a benefit than a challenge.
"That's actually what makes the work interesting, that you're able to represent different people who have different agendas," he said. "It keeps the day interesting, and it keeps the job interesting."
Stavisky agreed with that assessment, adding, "While the clients change, the skills are universal and the challenges are pretty consistent."


No. 4:

Greenberg Traurig
<![if !vml]>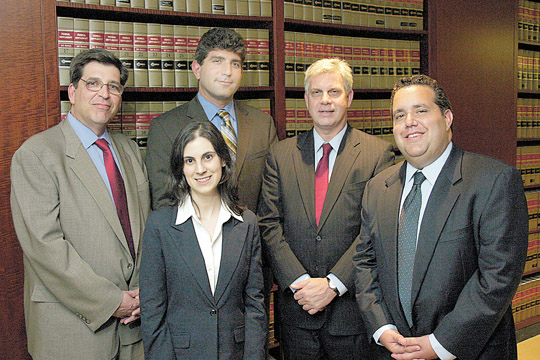 <![endif]>

From left: Robert M. Harding, Alexis B. Offen, Agostino Cangemi, Edward C. Wallace, and John L. Mascialino

TOP 10 CLIENTS FOR 2006:
ELAD Group, Ltd
Bearing Point Consulting
Flag Luxury Properties LLC/Ferry Point Partners
American Medical Alert Corporation
Bovis Lend Lease
Cisco Systems
Hunts Point Produce Cooperative
Extell Development Company
SCW West, LLC
S&H Equities, Inc.

TOTAL BILLING FOR 2006: $2,233,433.34

PROPOSED FIRM THEME SONG: "We Are Family" by Sister Sledge

Greenberg Traurig, known primarily as one of the largest law firms in New York City dealing in real estate zoning regulations and government transactions, was also the fourth largest lobbying firm in the city in 2006.
However, Ed Wallace, a former City Council member and lawyer with the firm who is involved in governmental affairs, said that that distinction can be misleading.
"The reason people come to us is frankly not primarily for lobbying," he said. "It's incidentally for lobbying and primarily for broader legal services."
Under New York City lobbying law, when a law firm such as Greenberg Traurig assists a client in a transaction to sell services to the government, such as a telephone or a software company, that work is reportable as lobbying. Hence, large law firms that abide by the city's reporting guidelines can end up being listed as top lobbyists, even though they are not engaged in traditional legislative lobbying.
"I think most lawyers around town should probably be registering and reporting more than they do," Wallace said, reflecting on the city's broad reporting requirements.
While Greenberg Traurig may not fit the usual definition of a lobbying firm, Wallace nonetheless said one of the firm's primary jobs is to be a translator between government and business.
"If there is a common thread, it is teaching the private sector not to be angry at the government, and teaching the government not to think that everybody in the private sector has endless amounts of money," he said.


No. 7:

Constantinople & Vallone Consulting, LLC
<![if !vml]>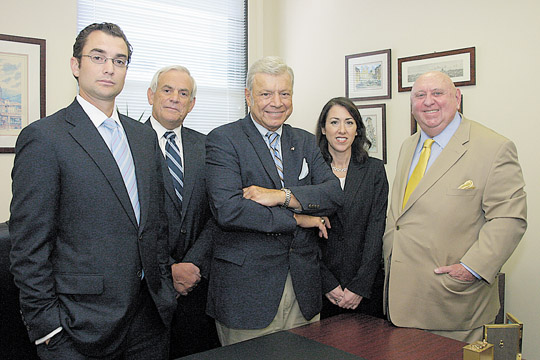 <![endif]>

From left: Anthony Constantinople, Esq, Tony Constantinople, Peter Vallone Sr., Laura Imperiale, Raymond E. Frier

TOP 10 CLIENTS FOR 2006:
Waste Management
Commerce Bank
K. Hovnanian Companies, Northeast, Inc.
T.A. Ahern Contractors Corp/Ahern Painting
Willets Point Industry & Realty, Corp.
Zar Realty Management Corp.
Boymelgreen Developers, LLC
Harlem River Yards Ventures, Inc.
Jackson Development Group, Ltd.
Coach USA; KEDC Holdings Corp.
Plaza 75 Realty, Inc.
Tan International Group
Taser International
Tully Construction.

TOTAL BILLING FOR 2006: $1,649,500.00

Veteran New York City politician and former City Council Speaker Peter Vallone, Sr. joined Constantinople Consulting three years ago, giving the long established firm a new name and some added political clout.
"We've noticed a jump in our retainers since then," founder Tony Constantinople said.
The firm now ranks seventh in the city, with 23 clients. With ten of those clients real estate developers, the firm has benefited from the city's development boom in recent years.
However, Constantinople is quick to distinguish what type of growth the firm is seeking.
"We're not in this for revenue growth," he said, "We're trying to do the right thing for the city."
"That is a big distinction," he added. "Most of our competition is looking to build business for the sake of business, and that's not what we're doing."
While development interests are a large part of Constantinople & Vallone's clientele, the firm has also come out against eminent domain, and represents Willets Point Industry & Realty, a corporation dedicated to protecting the Willets Point area from overdevelopment.
In addition to lobbying, the firm also concentrates on fundraising for political candidates at both the city and state level, underscoring what they feel is the continued political importance of Vallone's backing.
Vallone, who represented Astoria, Queens for 27 years before being term-limited out of office, said his lobbying work was a natural extension of his career in public office.
"All of the areas that we represent are things that, if I were in government, I would be concentrating on, and are what I did concentrate on when I was in government," he said, pointing in particular to the firm's work on behalf of clean energy and equitable banking practices.
Vallone also said his experience working with lobbyists when he was in office had taught him the value of his current work.
"A lobbyist is not a term to be demeaned," he said. "It's a good term when used properly."
Perhaps the most notable aspect of the firm is its family ties. Constantinople and Vallone are brothers-in-law, and the firm includes Vallone's son, Paul, as well as Anthony Constantinople, Jr.—though as the elder Constantinople points out, there is no actual blood tie between the two families.
Nonetheless, he said he expects the firm to continue being a family affair.
"Looking down the road, we would like to develop the next generation of Constantinoples and Vallones to run the firm," he said. "Within five years, we think you'll see a new generation managing the business."


No. 8:

Connelly McLaughlin

<![if !vml]>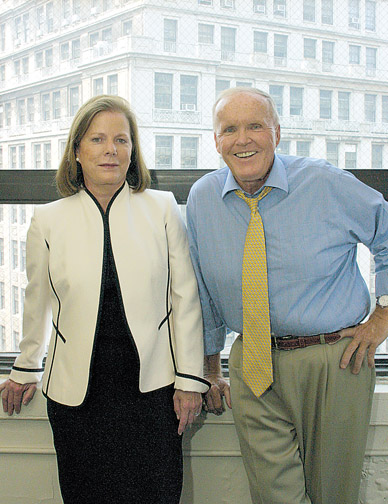 <![endif]>

(L-R): Maureen Connelly and Martin McLaughlin

TOP 10 CLIENTS FOR 2006:
ITAC
RFR Holding Corp.
Valeray Real Estate Company, Inc.
Stellar Management/Independence Plaza Assoc.
Seventh Regiment Armory Conservancy, Inc.
BFC Partners
Chetrit Group/200 Fifth Avenue
Entertainment Software Assoc.
Glenwood Management Corporation
Hunter College
International Code Council
Metropolitan Taxicab Board of Trade
One York Street Associates, LLC

TOTAL BILLING FOR 2006: $1,418,900.00

PROPOSED FIRM THEME SONG: "Dear Old Donegal"

Maureen Connelly and Martin McLaughlin were no strangers to New York City politics and consulting before joining forces in 1993 to form Connelly McLaughlin.
Connelly was a top political advisor to Ed Koch during his 1977 mayoral campaign and served as his press secretary from 1978 to 1980, when she left to join a consulting company.
McLaughlin spent 14 years reporting on labor and politics for the Daily News before becoming press secretary for Mayor Ed Koch's gubernatorial campaign. He became a full time lobbyist in 1982.
In its 14 years, the firm has represented an eclectic array of clients, ranging from the New York Public Library to Sean "Puffy" Combs. That diversity was a large part of the appeal of lobbying, Connelly said.
"What's interesting about the work that we do is that it's not doing the same thing over and over again," she said. "You're always learning something."
While Connelly McLaughlin has represented a large number of clients over the years, the firm's competitiveness lies in keeping a relatively small list of current clients, Connelly said, which allows the firm's principals to give each campaign personal attention.
In addition to lobbying, the firm does a large amount of press relations work, which Connelly said was a key to any successful campaign.
"A lot of these are controversial issues," she said. "You may know what the strategy is with government officials, but you have to have a press strategy that goes hand in glove."
"I think our claim to fame is we're good press strategists and we're good crises managers," McLaughlin added. "We know how to tiptoe through the minefield."
In an industry where longevity is the exception rather than the rule, McLaughlin said the keys to success are simple.
"Work your butt off and be as persistent as you have to be to get something done," he said. "If you have to make 500 phone calls, you make the 500 phone calls."
But hard work is no guarantee of success, and McLaughlin admitted there was little room for failure in an increasingly competitive and growing lobbying field.
"If you bat .333 in the major leagues, you're an all-star," he said. "In this business, you've got to bat about .750 to stay on top."


No. 9:

Geto & DeMilly
<![if !vml]>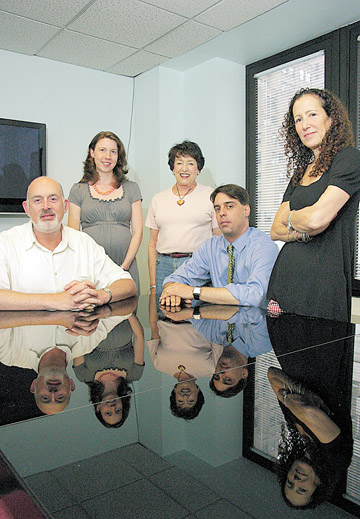 <![endif]>

From left: Ethan Geto, Julie Hendricks, Joyce Baumgarten, Peter Krokondelas and Michele de Milly

TOP 10 CLIENTS FOR 2006:
SJP Residential Properties
East River Realty Company, LLC
Forest City Ratner Companies
W2001 Z/15 CPW Realty, LLC
The Brodsky Organization
The City Investment Fund, L.P.
Eldridge Street Project
Meilman Family Real Estate
Callen-Lorde Community Health Center
122 Greenwich Owner, LLC

TOTAL BILLING FOR 2006: $1,323,996.00

PROPOSED FIRM THEME SONG: "New York, New York" by Frank Sinatra

In a business where lobbying firms can come and go, Geto & DeMilly has been one of the city's most persistent. Founded in 1980 by Ethan Geto and Michelle DeMilly, Geto & DeMilly ranked ninth in lobbying revenue for 2006 and now has more than 20 clients.
From the start, the firm specialized in representing real estate interests. Prior to becoming a lobbyist DeMilly was press secretary for the Empire State Development Corporation. she feels that her experience there largely shaped the firm's client list, which includes some of the city's largest developers.
DeMilly said the firm was devoted to advancing both community and development interests.
"I think our strength is in forging compromises between community issues and the development community," she said. "In addition to working for the developers, we also work for the Municipal Arts Society and other organizations that are interested in the development projects."
Over its long life, Geto & DeMilly has taken on several long campaigns, such as a ten-year effort to pass no-smoking legislation. In general, DeMilly said that long relationships were a hallmark of the firm; one client has been with the firm for 24 years.
In addition to traditional lobbying, the firm also concentrates on public relations and community relations services. DeMilly said that the three complement one another, and that representing a variety of clients and campaigns plays to the firm's strengths.
"We're pretty good at running from one issue to another," she said. "We're not great experts on every topic, but we sure know a lot about the chief public policy issues that affect our city and our state."
"We're able to switch hats pretty easily," she added.
Geto, who previously served as a top policy advisor to former New York State Attorney General Robert Abrams (D), said the firm's background in government and politics was a key to its longevity.
"We understand the nature of those enterprises and how to navigate them," he said.


No. 10:

Yoswein New York

<![if !vml]>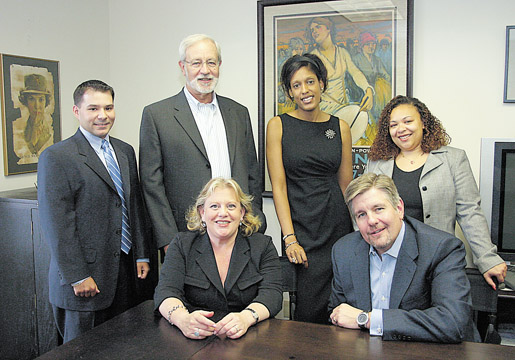 <![endif]>

Back Row (L-R): Christopher Grimm, Glenn Van Bramer, Nina Burke and Tyquana Henderson
Front Row (L-R): Joni Yoswein and Jamie Van Bramer

TOP 10 CLIENTS FOR 2006:
New York Academy of Medicine
380 Development, LLC
BA Cypress Bronx Holding, LLC
Maimonides Medical Center
Brooklyn Philharmonic
SUNY Downstate Medical Center
Mount Sinai Hospital, Queens Campus
The New 42nd Street, Inc.
Bailey House
Brooklyn Technical High School Alumni Association

TOTAL BILLING FOR 2006: $1,187,000.00

PROPOSED FIRM THEME SONG: "Respect" by Aretha Franklin
Alternate choice: "In-A-Gadda-Da-Vida" by Iron Butterfly

Former staffer and then Assembly Member Joni Yoswein founded Yoswein New York in 1994. Since then, the firm has grown gradually, and has been one of the top 10 lobbying firms in the city for five of the last six years.
Today, the firm represents just over 20 clients, which Yoswein said reflects her belief that bigger is not always better.
"One of the things we did from the beginning was to build a boutique firm, meaning we didn't want too many clients," she said. "We didn't want to have the 30-, 40- or 50-client roster."
To represent those clients it does take on, the firm at times launches rather unconventional campaigns, such as creating the world's largest Caesar salad, which weighed in at 5,620 pounds.
Overall, Yoswein said her early political work had had the most influence on her approach to lobbying.
"Being a staff person helped me tremendously in terms of showing me what I wanted to be when I grew up," she said. "There is nothing like being in a district office helping a constituent to ground you and remind you of the importance of an elected official representing their constituents."
Jamie van Bramer, a lobbyist with the firm—and the son of Yoswein's husband, Glenn van Bramer, who is also with the firm—previously served as chief of staff to then-Assembly Member Roberto Ramirez (D-Bronx). He said the political experience within the firm gave Yoswein a distinct advantage.
"With all of us coming out of government politics, we've taken the notion of a campaign mentality for our clients," Van Bramer said. "So if a development project needs both public relations work, community organizing and grass roots organizing—all of the things that come into a campaign—we're able to do them all in-shop here."
The firm relied heavily on those campaign strategies in representing retail giant Ikea in that company's effort to open a store in Red Hook, Brooklyn.
Yoswein said the success of that campaign was the result of extensive community outreach.
"That was a project that really should have been controversial," she said. "We knew we needed to build support among the community members that lived near the Ikea project and really had the most to lose or win."
Tyguana Henderson, a lobbyist with the firm, said the Ikea project highlighted Yoswein New York's character.
"I think that is what is unique about our firm—we care more than just about our clients," she said. "We care about the communities."


<![if !vml]>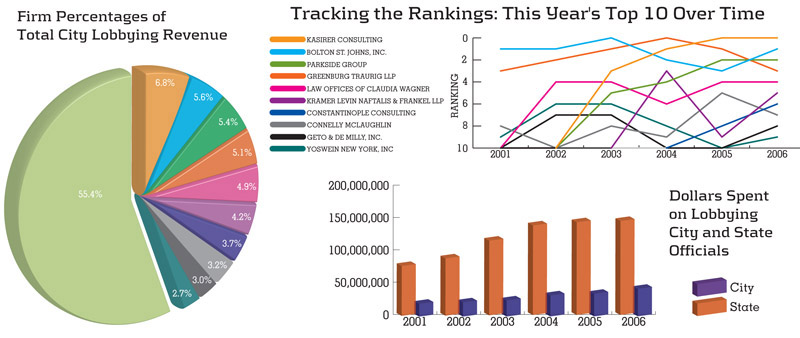 <![endif]>

<![if !supportLineBreakNewLine]>
<![endif]>
<![if !supportEmptyParas]> <![endif]>